How does it work?
Teach a foreign language as part of your normal teaching day without adding to your workload or stress levels - irrespective of your linguistic confidence.

A complete suite of teaching resources is provided for every lesson. Whether you teach KS2, KS1 or the whole of the primary phase – everything is catered for. Interactive teaching materials are provided for all lessons.

Our experienced team of foreign language teaching specialists and linguists have spent thousands of hours over many years creating, testing and refining our lessons and resources to ensure they deliver each and every time.

Give you pupils remote access to resources to support their learning from home via our Home School site or give them access to our fun and exciting interactive games – all designed to support and consolidate their learning.
GET YOUR FREE 6-WEEK TRIAL NOW!
Access to everything for 6-weeks! No cost. No obligation. No-brainer.
You and everyone in your school gets full access to everything. Nothing is held back. You can review our resources with your colleagues, road-test them in your lessons and evaluate learning and progression - all before you make your decision.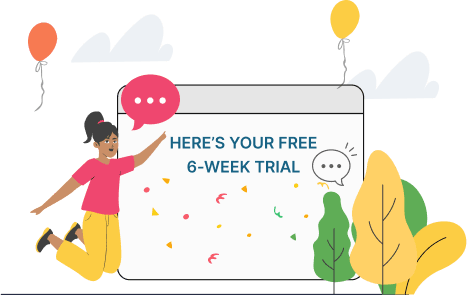 PRIMARY FOREIGN LANGUAGE TEACHING PLATFORM
Why Language Angels is worth signing up to
Check out the features our users appreciate the most
Join our ever-growing Language Angels community.
We're constantly in contact with users of our resources. Feedback and suggestions are built back into the platform to ensure you always have the most up-to-date, relevant and supportive platform of resources possible. Take a 6-WEEK FREE TRIAL and see for yourself.
Free Trial
Pupils learning & progressing
Schools using our resources
Teachers using our resources
Subscription Pricing
All prices quoted exclude VAT.
FREE TRIAL
ACCESS TO EVERYTHING FOR 6-WEEKS. NO COST. NO OBLIGATION. NO-BRAINER.
You and everyone in your school gets full access to everything. Nothing is held back. You can review our resources with your colleagues, road-test them in your lessons and evaluate learning and progression - all before you make your decision.
Free Trial
We're always here to help you.
FAQs
There is nothing more important to us than the very highest standards of teaching and learning of primary foreign languages. To help you get the very best out of our platform and resources we have collated some of our most frequently asked questions to help you.
If your question is not answered below, please get in touch and one of the team will be delighted to help you.
01
What is Language Angels?
Language Angels is a ready-made foreign language teaching solution for all primary schools. This makes it possible for all primary school teachers to teach successful foreign language lessons irrespective of their linguistic confidence and without adding to their workload or stress levels.
02
Are your resources curriculum compliant?
Our resources are completely curriculum compliant. They have been written around the 12 DfE Languages Programme of Study attainment targets. As experienced teachers, linguists and trainers we are always abreast of any changes and ensure these are immediately reflected in our materials.
03
Are you a complete scheme of work?
Language Angels is a complete scheme of work with enough units and materials provided for the teaching of foreign languages through the whole of primary phase. Short, medium and long-term planning is all provided as well as our fully resourced lessons.
04
Do you provide resources for EYFS and/or KS1?
Yes, we provide a full programme for EYFS and KS1. These units look very different to our KS2 materials and the pedagogy and methodology is tailored specifically to this learning phase. These are not 'watered' down KS2 units.
05
Do you provide resources for mixed aged classes?
Yes, we work with many schools that have mixed age class teaching. We categorise our resources into three main 'Teaching Types' (not to specific years or age groups), making it easier for schools to tailor our programme to cater for mixed age teaching.
06
Is yours a 'step-by-step' approach to teaching languages?
There is most definitely 'a step-by-step approach' at Language Angels. The three 'pillars' of language learning (phonics, grammar and vocabulary) are all built into the scheme and, as pupils progress through the units and teaching types, previous language is recycled, revisited and consolidated.
WHAT LANGUAGE ANGEL USERS SAY
Testimonials
In their own words...
I highly recommend Language Angels
Language Angels is a fantastic resource to use to support the delivery of MFL within school. It has a range of resources and planning to support the teaching of French or Spanish. Our children really enjoy the sessions.
Gemma Matthews
(Sheep Dip Lane Academy - Doncaster)
Language Angels has been a very welcome resource
At Parklands Primary, we absolutely love Language Angels and the huge positive impact it has had on Spanish at our school. The lessons are easy to follow with excellent differentiated resources and in-depth lesson plans; making it straightforward for all teachers to pick it up and go. It has allowed us to build on our Spanish skills with confidence and the children now absolutely love language learning and they are making excellent progress as a result. The karaoke and games are wonderful, the lesson content is fantastic and the support from Language Angels has been second to none. This is a scheme with heart and soul, and anything you might need, the team are there for you. Without a doubt, the best money our school has ever spent!
Sam Sunderland
(Parklands Primary School - Leeds)
I highly recommend Language Angels
We have thoroughly enjoyed using Language Angels so far this term. Lots of teachers have shared how they feel much more confident at delivering the Spanish lessons each week. Children have really enjoyed the visuals and varied listening and speaking tasks. Language Angels is definitely raising the profile of Spanish across the school and we look forward to continuing with it moving forward.
Anna Dyke
(Reaside Academy - Birmingham)
I highly recommend Language Angels
Language Angels has enabled non-specialist teachers in my school to teach languages confidently, knowing that they are providing the children in their class the language experiences they require in order to progress securely to KS3. The slides are created in a way to motivate the children and helps to structure the lessons so that there is a lot of opportunity for learners to practise what they are learning, in order to embed new knowledge, so that they learn more and remember more. At the beginning of each lesson, there are slides which require children to recall prior learning to ensure that they build on this learning so that progression takes place. Resources, such as worksheets which are provided, create an opportunity for language learners to demonstrate what they have learnt and now know. Worksheets are also differentiated to include every child in the class so that the learning is inclusive to all and helps to improve confidence and raise self-esteem. Games, flashcards and songs enable the teacher to be creative with their lessons and also encourage the children to love learning languages. Children experience a sense of achievement as they feel successful and can see how they are making progress. In addition to the implementation of the curriculum the topics covered and the progression between early teaching, intermediate and progressive, ensures the 3 pillars of language learning, phonics, vocabulary and grammar is taught explicitly so that children can continue to develop their ability to understand and produce language. Language Angels also provides CPD in the form of live webinars which helps the specialist, non-specialist and language leaders to improve their knowledge and skills to ensure staff continue to gain confidence in their teaching and leading staff so that children see learning a language as purposeful, providing them with aspirations and enhancing their love of languages.
Theresa Ryan
(St. Patrick's Catholic Primary School - Stockton on Tees)
Language Angels has been a very welcome resource
We are currently in our second year of using Language Angels and are so glad that we made the switch from our previous scheme! Spanish is delivered in timetabled lessons across KS2, this is for one hour every two weeks. Over the course of the year we aim to cover three units and include phonics work. There are so many brilliant features to Language Angels: from the support given to establish our curriculum map and ensure progression and consolidation opportunities to excellent resources that include PPTs, songs, games and differentiated worksheets. We deliver Spanish using a Spanish specialist but if a class teacher ever needs to cover a lesson this is so easy with Language Angels. All teaching resources have Spanish audio so the teacher does not need to know the language and actually they really enjoy learning themselves. I used to have to spend a lot of time creating resources with our previous scheme but not anymore, everything I need is provided. End of unit assessments cover listening, reading, speaking and writing and provide me with a summative assessment to compliment what I assess formatively. I love this resource and cannot recommend it highly enough.
Jo Smith
(Belmont Primary School - Swadlincote)
Webinars
Watch recordings of some of our recent CPD webinars
Catch-up on some of the free CPD webinars we've hosted.
To complement our platform, we also offer extensive personalised CPD & training opportunities.
CPD options are offered to individual subject leaders and/or groups of staff in schools that subscribe to Language Angels.
Online sessions are available to schools in any location.
In person training is also available but is currently only available in LONDON, HAMPSHIRE, CHESHIRE and NORFOLK. Other areas will be added soon!
Schools may request one-hour, half-day or full-day packages choosing from a mixture of our menu of CPD topics. Bespoke sessions and packages are also available.
These CPD sessions are provided o‍n a chargeable basis.